It doesn't matter if you're a complete newbie or tech-savvy. Our step-by-step guide and live support will ensure that you setup your IPTV and start watching over 8000+ channels within 5 minutes!
PC/MAC
1- Download VLC ( Download URL http://www.videolan.org/vlc/download-windows.nl.html )
2 – Open VLC Player
3- Go to Media -> Open Network stream.
4-  Add your URL and press play
KODI (XBMC) Version 17 & Up
If you use KODI 16 or lower please click here
How to Setup PVR IPTV Simple Client Kodi Krypton 17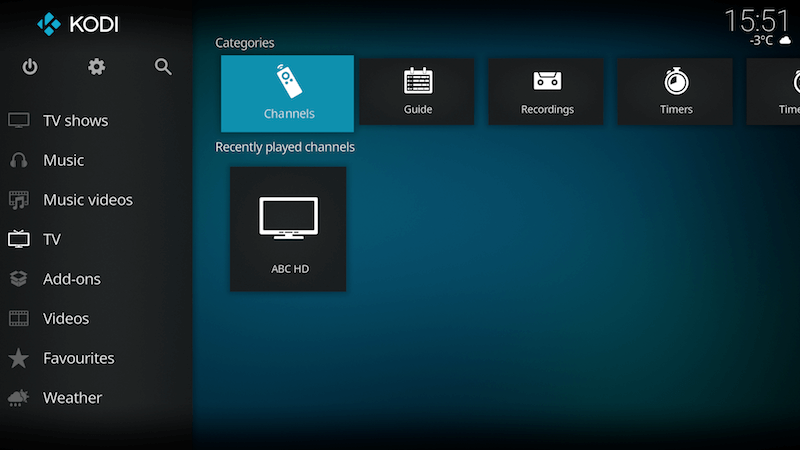 Open KodiSelect TV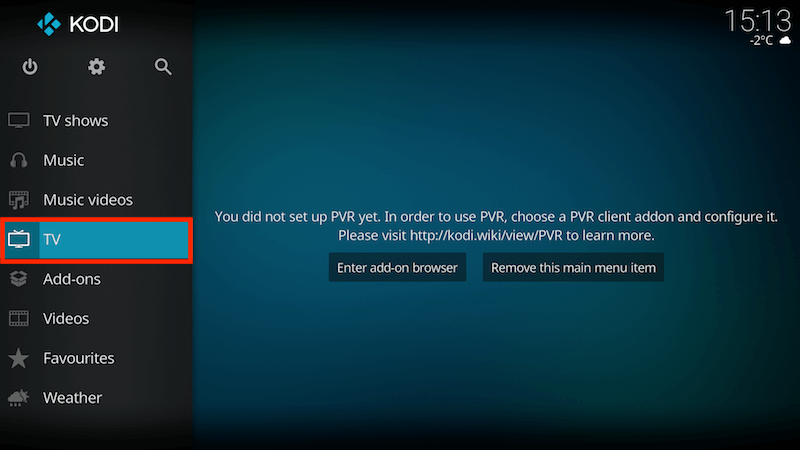 Select Enter add-on browser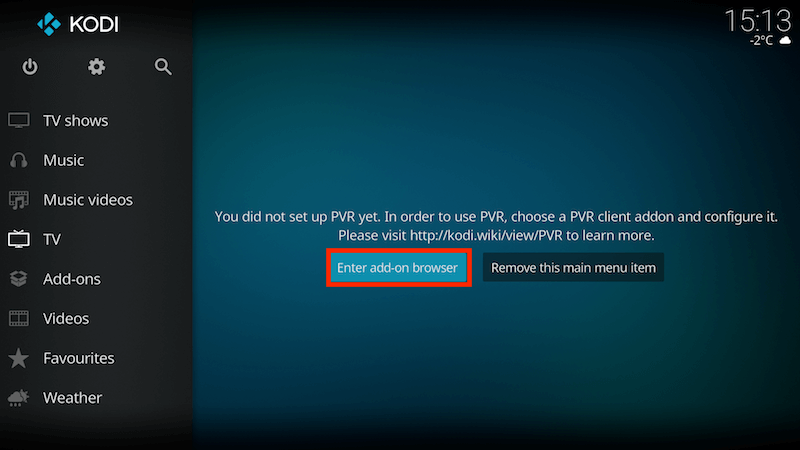 Select PVR IPTV Simple Client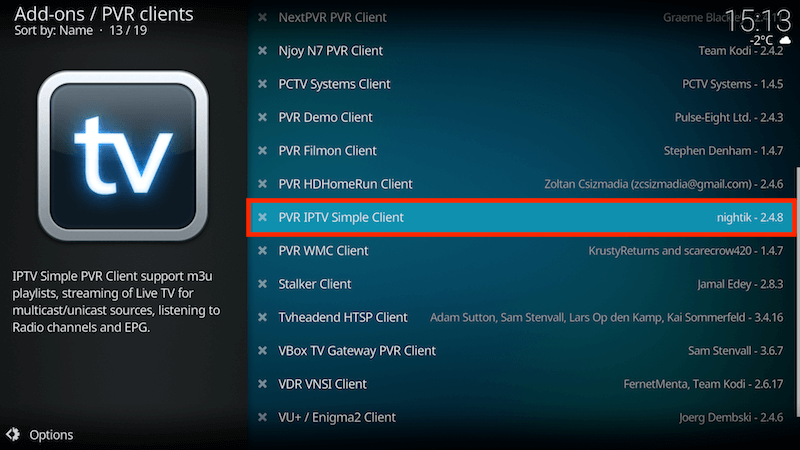 Select Configure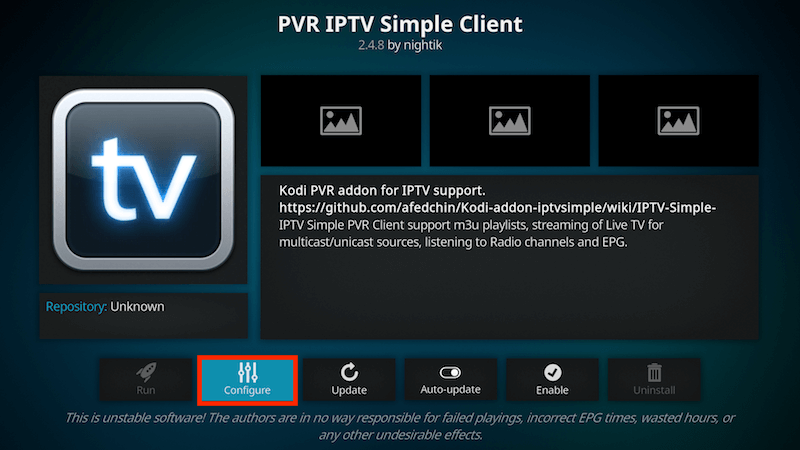 Select General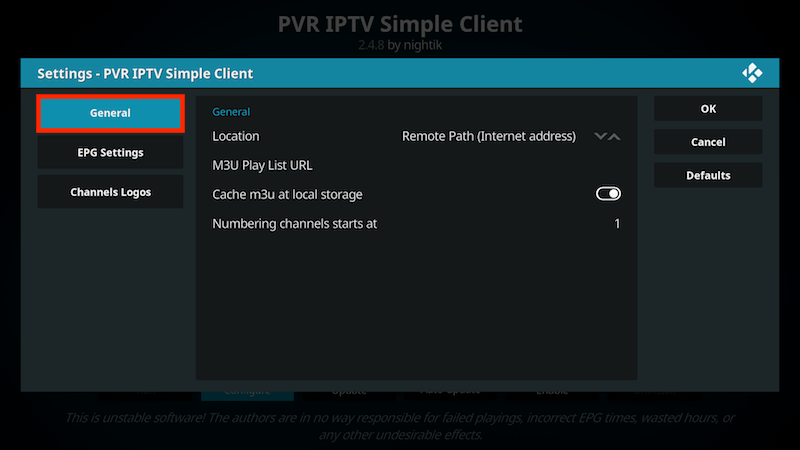 If you have a URL for your m3u list set Location to Remote Path (Internet Address)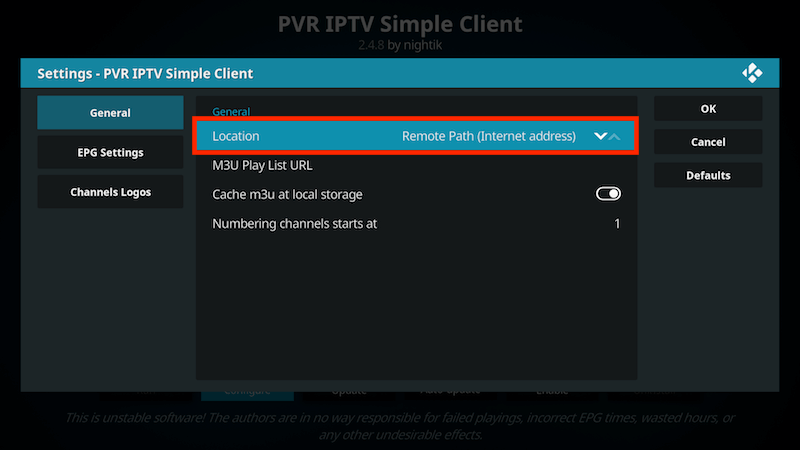 Then Select M3U Play List URL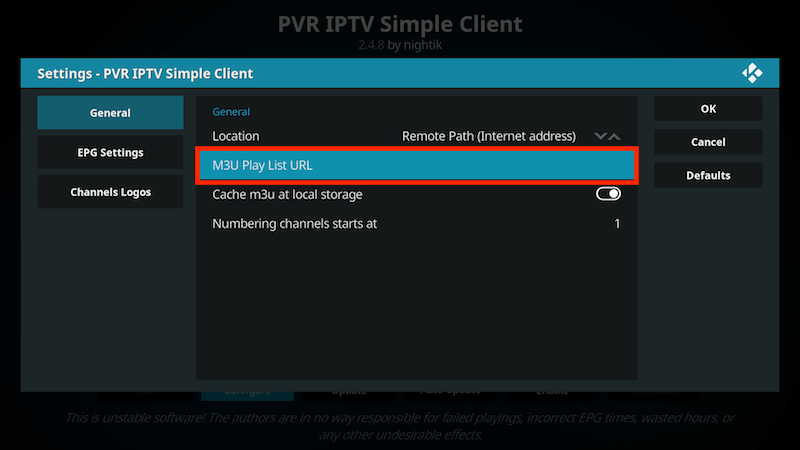 Enter the URL of your M3U Play List and select OK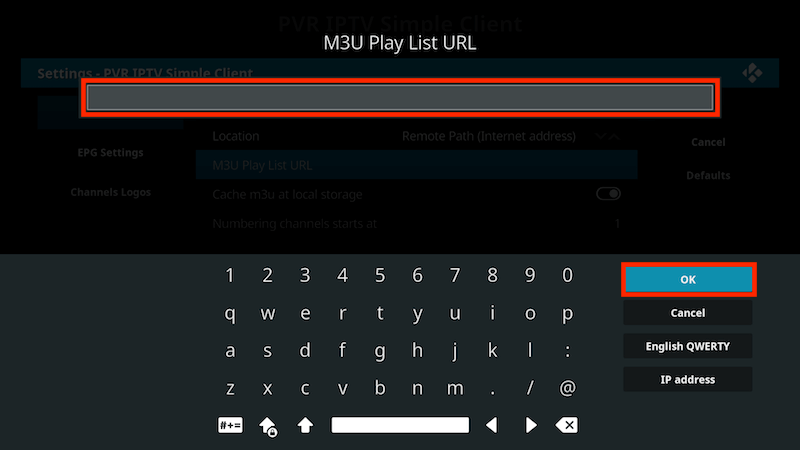 If you have an M3U text file stored locally on your network/computer/box then set the Location to Local Path (include Local Network)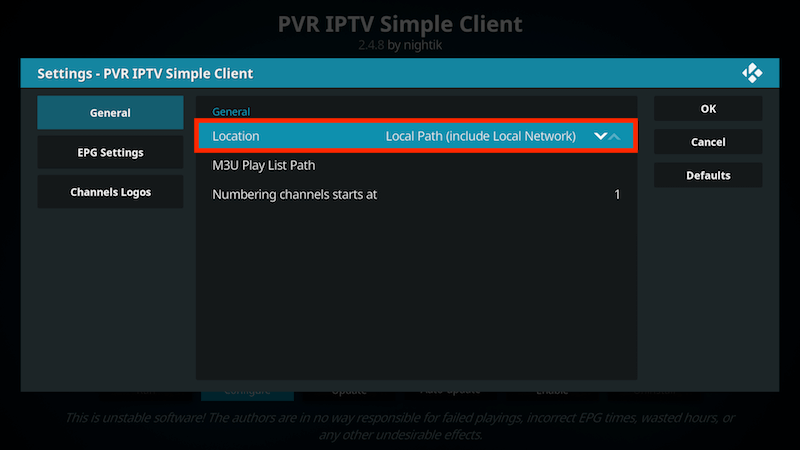 Then Select M3U Play List URL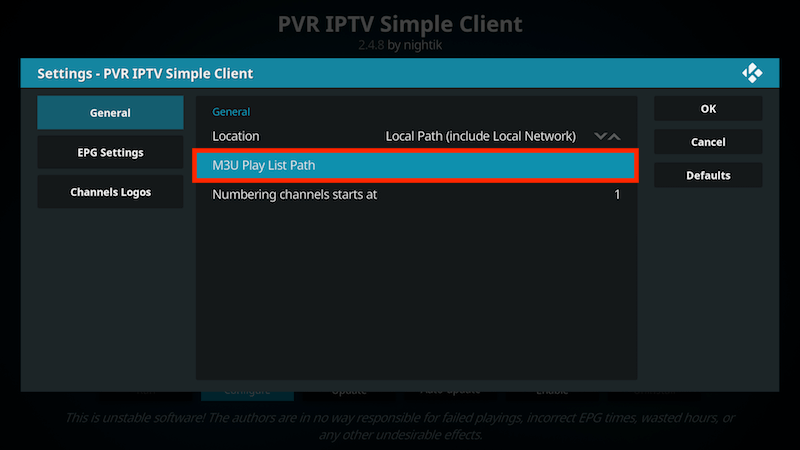 Navigate to where the file is stored and select it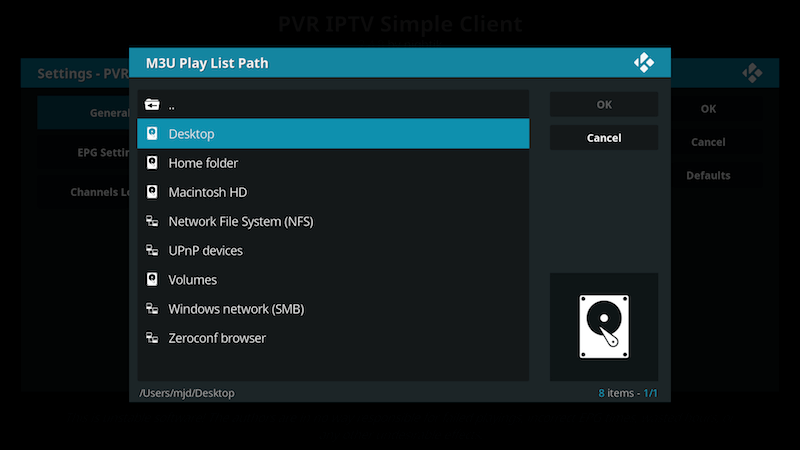 Select OK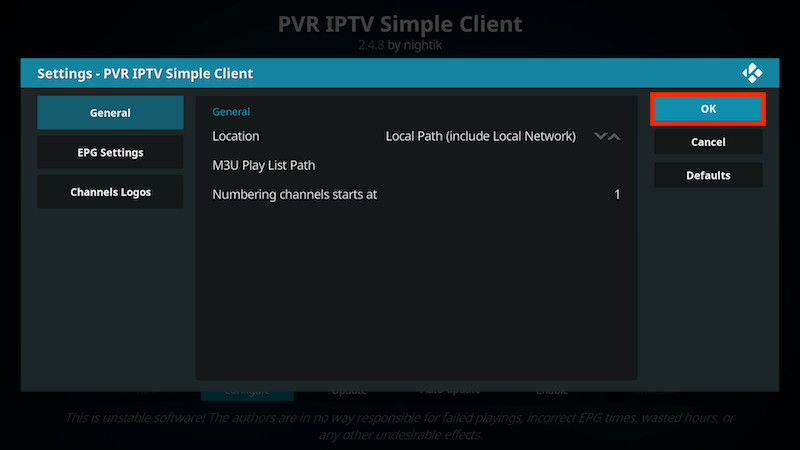 Select Enable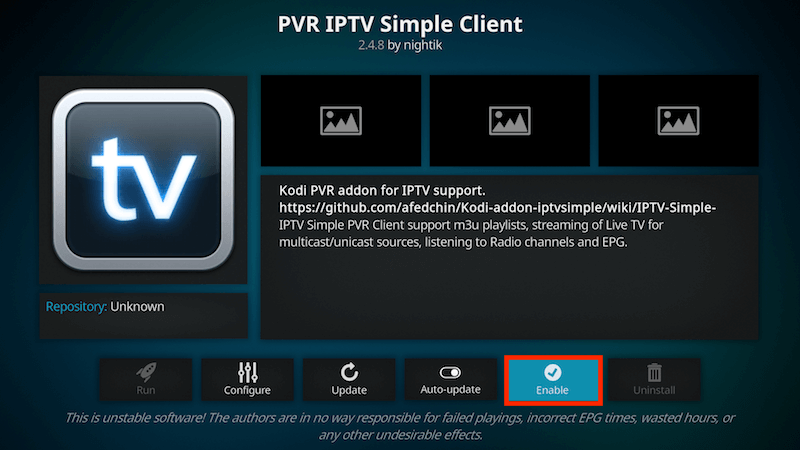 Wait for notification of channels loaded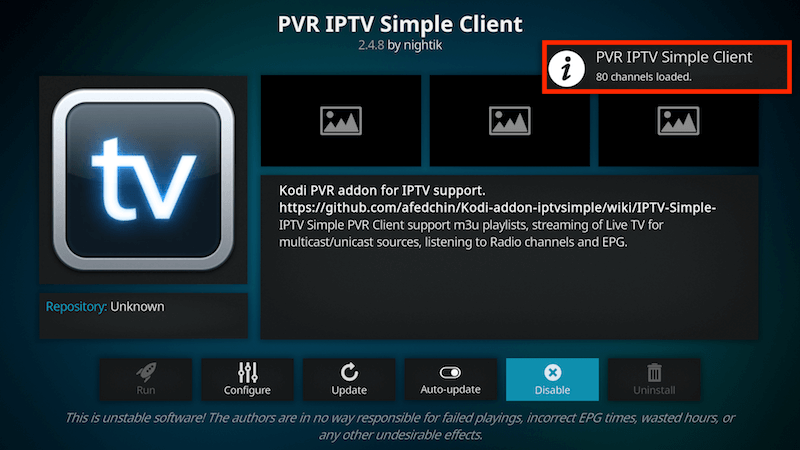 Now when you go back to the Home Screen and select TV it should look like this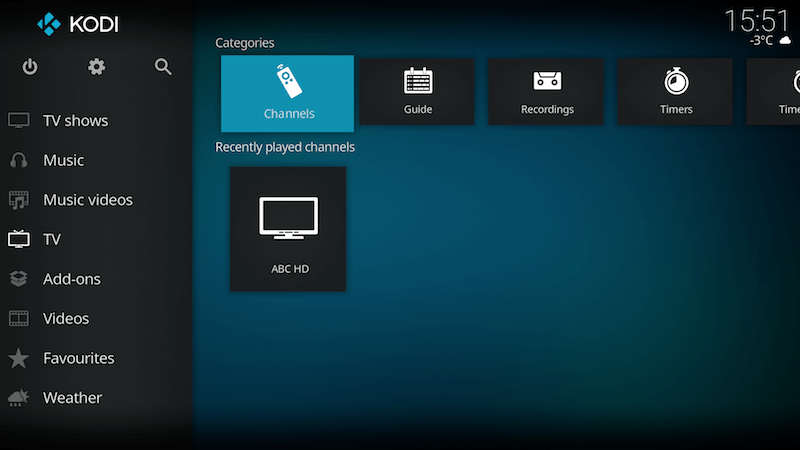 KODI Version V16 or lower
If you use KODI 17 or higher please click here
Open Kodi
Select SYSTEM
Select TV (or Live TV if you are on a version lower than 15.2 and if you are then consider updating)
Select General
Select EnabledYou will now see a pop-up saying that you have no PVR Client enabled.
Select OK
Scroll down and select PVR IPTV Simple Client
Select Enable
Select Configure
In General select M3U Play List URL
Add your M3U URL into the address section
Select OK
Select OK again
Reboot Kodi
On your Home Screen you should now see TV (or Live TV if on an older version of Kodi).
Open that to see the live channel list
The list should look like this.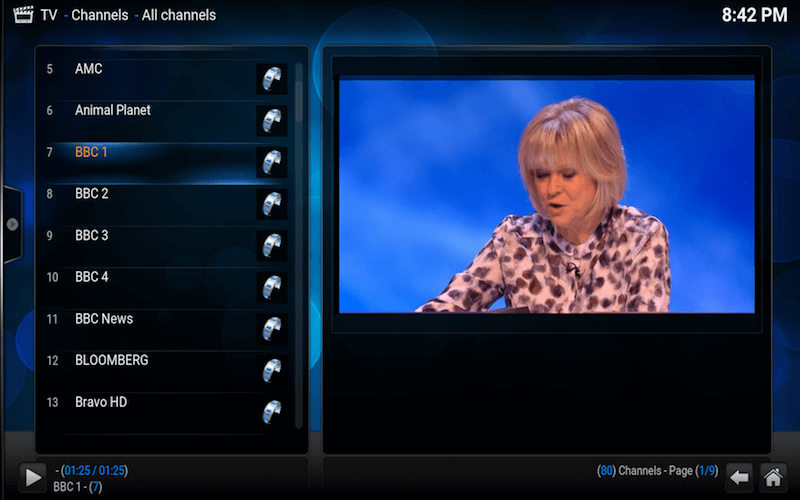 Select a channel for it to load and play
Word count: 107
Last edited by Admin on June 21, 2017 at 10:19 am
Toggle panel: Divi Post Settings
Divi Post Settings
Page Layout:
Hide Nav Before Scroll:
Toggle panel: Publish
Publish
Preview Changes (opens in a new window)
Status: Published Edit Edit status
Visibility: Public Edit Edit visibility
Published on: Jun 21, 2017 @ 10:19 Edit Edit date and time
Readability: Needs improvement
SEO: Not available
Copy to a new draft
Move to Trash Update
Toggle panel: Format
Format
Post Formats Standard
Video
Audio
Quote
Gallery
Link
Toggle panel: Categories
Categories
All Categories Most Used
IPTV Tutorials
Technical Support
Uncategorized
+ Add New Category
Toggle panel: Tags
Tags
Add New Tag
Add
Separate tags with commas
Choose from the most used tags
Toggle panel: Featured Image
Featured Image
Set featured image
Toggle panel: Yoast internal linking
Yoast internal linking
Toggle panel: WP Customer Reviews
WP Customer Reviews
Enable WP Customer Reviews for this page
Reviews will be displayed below your page content by default. To insert reviews in the middle of your post, add
✔ IPTV GATOR | ✔ IPTV PREMIUM SERVER | ✔ 12 000+ IPTV CHANNELS | ✔ 4000+ VOD
Average rating:
0 reviews
in the contents where you would like the reviews to be displayed.
Toggle panel: Mega Main Options
Mega Main Options
Post Icon
Select icon for this post, which will be displayed in the "Post Grid Dropdown Menu"
Show Icons
Toggle panel: Yoast SEO Premium
Yoast SEO Premium
Help center
Content optimization
Enter a focus keyword to calculate the SEO scoreSocial
Advanced
Readability Needs improvement Enter your focus keyword + Add keyword
Snippet preview
Show information about the snippet editorYou can click on each element in the preview to jump to the Snippet Editor.
SEO title preview:How to setup IPTV on KODI – ✔ IPTV GATOR | ✔ IPTV PREMIUM SERVER | ✔ 8000+ IPTV CHANNELS | ✔ 4000+ VOD
Slug preview:https://www.iptvgator.com/setup-iptv-kodi/
Meta description preview:If you use KODI 17 or higher please click here Open Kodi Select SYSTEM Select TV (or Live TV if you are on a version lower than 15.2 and if you are then con
Edit snippet
Focus keyword
Show information about the focus keywordEnter a focus keyword
This article is cornerstone content
Analysis
Show information about the content analysis
Bad SEO scoreNo focus keyword was set for this page. If you do not set a focus keyword, no score can be calculated.
Bad SEO scoreThe text contains 130 words. This is below the recommended minimum of 300 words. Add more content that is relevant for the topic.
Bad SEO scoreNo meta description has been specified. Search engines will display copy from the page instead.
OK SEO scoreThe images on this page contain alt attributes.
OK SEO scoreThe page title is wider than the viewable limit.
Good SEO scoreThis page has 0 nofollowed outbound link(s) and 1 normal outbound link(s).
Good SEO scoreThis page has 0 nofollowed internal link(s) and 1 normal internal link(s).
Insights
Prominent words
The following words and word combinations occur the most in the content. These give an indication of what your content focuses on. If the words differ a lot from your topic, you might want to rewrite your content accordingly.
tv or live tv
select
tv or live
live tv
kodi
Read our ultimate guide to keyword research to learn more about keyword research and keyword strategy.
Toggle panel: Excerpt
Excerpt
Excerpt
Excerpts are optional hand-crafted summaries of your content that can be used in your theme. Learn more about manual excerpts.
Toggle panel: Custom Fields
Custom Fields
Name Value
Key
wpcr3_format
Delete Update
Value
business
Add New Custom Field:
Name Value
Enter new
Add Custom Field
Custom fields can be used to add extra metadata to a post that you can use in your theme.
iPhone/iPad/Apple TV
Step 1 Download iPlayTV from AppStore
Step 2 Upload our M3U Url to iPlay TV
Now you can enjoy our IPTV playlist
OR
1 – Download GSE SMART IPTV PRO
https://itunes.apple.com/nl/app/gse-smart-iptv-pro/id1028734023?mt=8
2- Go to the app and Click 'Accept' EULA rule
3- Click 'Setting' on left top corner
4- Find and click 'Remote Playlists' menu
5- Click '+' button to add IPTV provider
6- Click 'Add M3U URL'
7- Add by name of playlist IPTVGATOR, and below Name of playlist add your M3U URL
8- Click on Add
9- Go to the IPTVGATOR , now you are ready to watch
ROKU
Setup IPTV on Roku
---
1. IPTV Playlist  PLAYER Setup
Step 1:
Start by downloading the IPTV playlist player from the Roku online store.
 Step 2:
Now click on "Add New or Updated Playlist".
Step 3:
Enter your M3U URL and click on "Save Your Playlist".
Step 4:
Depend on your M3U playlist, it might take a couple of minutes before your playlist gets fully loaded.
Now your M3U playlist is fully loaded and you can start watching TV by selecting any channel.
Now you are ready to watch channels on your Roku box
Zegmma Box
On Zgemma box you need to find the IP address:
Go to menu, system, information, network and make a note of the IP address
Google 'PUTTY' or click the link below:
Select this version if using windows:
Find PUTTY in your download folder
Open PUTTY and type in your IP address of Zgemma into the HOST name (or IP address) box
You will now see the screen below:
Type root and press enter
The copy the line I sent you
Go back to putty, right click and press enter
This will create your new BOUQUET called MY_BOUQUET where your channels will be
ADDING M3U FILE TO IPTV PLAYER ON ZGEMMA WITH IPTV PLAYER
Save the file I email to you onto your desktop
Download a program called 'WINSCP' – https://winscp.net/eng/index.php
Open WIN SCP
In host name type in the IP address of your Zgemma
Username type in root
On the right hand side box double click the 3 dots
Repeat above
Double click 'HDD'
Double click 'M3U file we sent you'
On the left hand side box, find the playlist you were sent you on your desktop
Right click on it
Click upload – once it says complete you have your M3U file on your Zgemma
Now go to your Zgemma remote
Press Menu, IPTV PLAYER,
Open Local Media
Then media/hdd, the M3U file we sent you
Click on your playlist and your channels will appear
Channels
ENJOY Your Watching with IPTVGATOR.COM